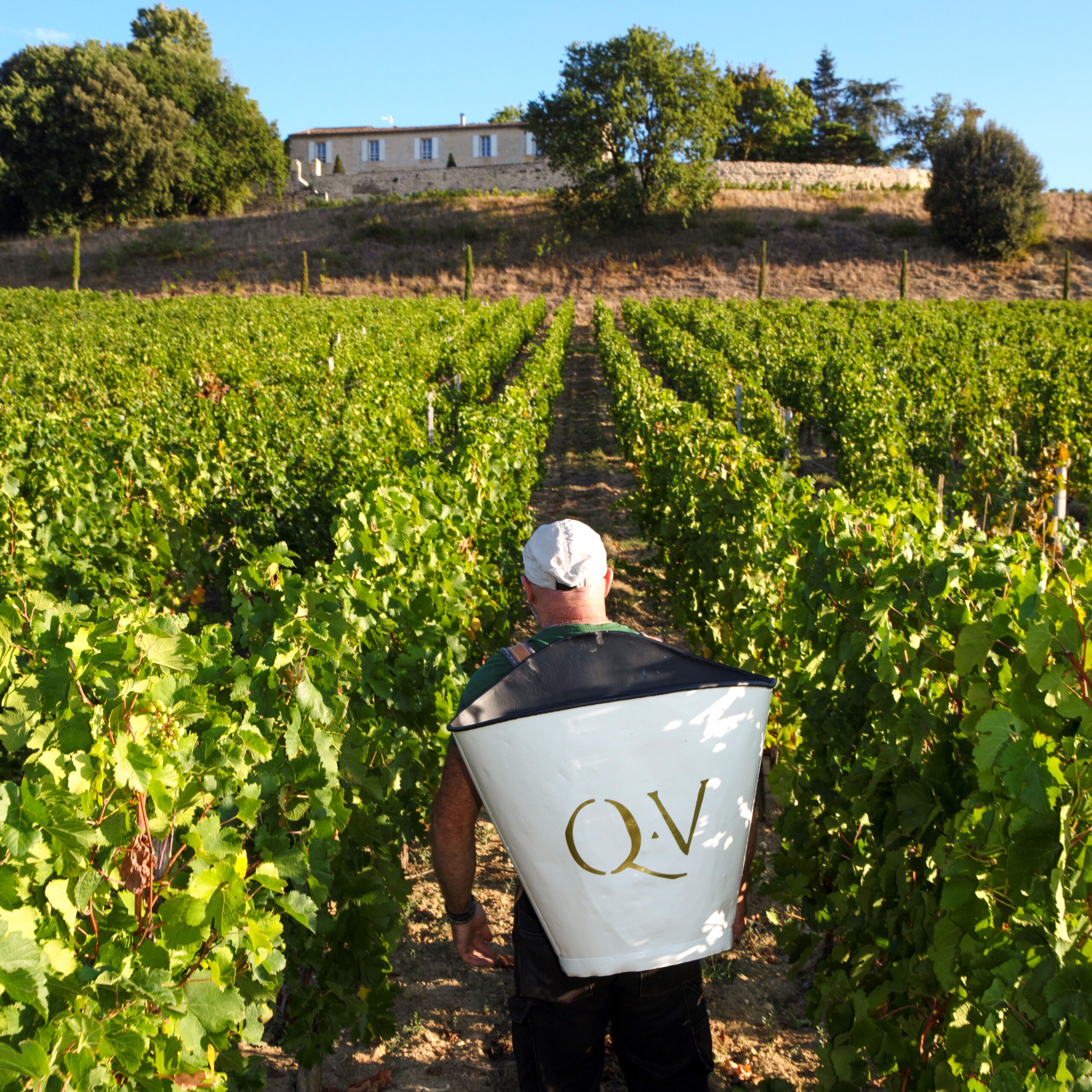 Harvesting the fruit of labor
The harvest at Château Quintus began on September 7th. The campaign commenced with the merlot grapes harvested from the young plants, as they are typically the first to reach full maturity. Before the harvest, during the summer, the winegrowers removed the few remaining green grapes before they started ripening, to ensure the homogeneity of the harvest. Moreover, the team did not carry out any leaf-thinning on Quintus' plots this year. And thankfully so, because this green canopy protected the grapes from this summer's hot and dry sun.
The strength of Quintus' terroir
2022 is giving us perfectly mature grapes, in excellent health conditions. Our grape pickers are delivering quite the ideal raw material for making a great vintage. This year in Saint-Emilion was a sunny one with many hot periods and little rainfall, but always at the right time. Audrey Bernard, Vineyard Manager, gives us a few insights about this year's particulary warm and dry climate and its impact: "The terroir of Quintus was a real asset during this hot, dry year, because it retains some coolness. The vine went to seek water deep down in the soil, which enabled us to have grapes that reached maturity, without any halt during their ripening whatsoever." The result is a harvest of very concentrated berries with exceptional aromatic qualities.
Perfect homogeneity and maturity in 2022
With more than 30 years of experience in Saint-Emilion, Claude Diligeart, our Cellar Master, is one of the best placed to deliver the first impressions on this year's crop. With a lovely harvest and perfect ripeness, this year offers much less sorting to do. Claude Diligeart starts tasting the juice as soon as the grapes are put into vats, commenting, "We adapt ourselves to the grapes that we bring in; our winemaking is made-to-measure. We ensure that pumping over is gentler and above all, not as long as in previous years." Hot years are those of great quality with a lesser harvest quantity indeed, but we always give preference to quality over quantity.
2022, full of promise
2022 is Château Quintus's 12th vintage and the earliest one at Quintus in the past 10 years.  Mariette Veyssière, Estate Manager at Château Quintus, gives her insight on the very promising (future) 2022 vintage. "Saint-Emilion's terroir was particularly highlighted and valued during this year, with the weather being hot and dry.  Plots on the northern slope will undoubtedly bring freshness and elegance to the blend of Quintus 2022.  They will certainly come to give balance to the plots on the southern slope, where the grapes were more concentrated and richer in aromas.  2022 seems to be a highly promising vintage, in the same vein as the superb vintages of 2019 and 2020."
More stories